Skip to Content
Improve Your Smile with Porcelain Veneers in Alpharetta, GA
If you're in need of porcelain veneers in Alpharetta, GA, or the surrounding communities, SmileScapes' high-quality porcelain veneers can help improve your smile. Whether you have worn, chipped, broken, or misaligned teeth, we're an Alpharetta-based porcelain veneers dentist that can help improve your smile with a natural and beautiful look.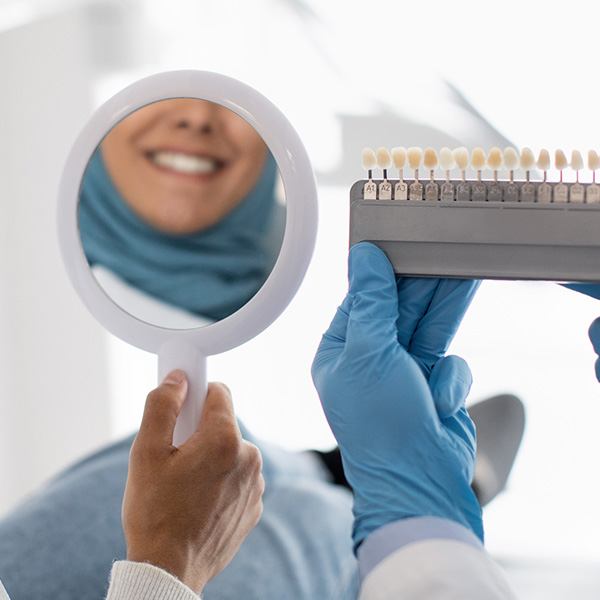 What Are Porcelain Veneers?
Porcelain veneers can permanently whiten discolored teeth; hide worn, chipped, or broken teeth, and correct misaligned teeth. Porcelain veneers can also be used to close gaps between teeth, and correct craters or bulges in irregularly shaped teeth. In addition to these cosmetic effects, porcelain veneers can help to reduce tooth sensitivity by providing an additional layer of porcelain between your sensitive tooth and hot or cold substances.
Porcelain veneers are created with a custom-fit, wafer-thin shell of sturdy porcelain that is bonded to the front of your existing tooth. When porcelain is properly placed and bonded to your tooth, porcelain veneers are durable and indistinguishable from your natural teeth.
The Benefits of Porcelain Veneers
The benefits of porcelain veneers are wide-ranging and potentially lifelong. You can expect an improved level of confidence as well as a younger and more beautiful smile. Before the advent and widespread use of porcelain veneers, minor dental imperfections required either serious orthodontic intervention or endured major damage to the natural tooth. However, with porcelain veneers, many minor dental imperfections can be minimized or entirely corrected with little to no damage to your natural teeth. Porcelain veneers can not only permanently whiten a smile, but they can also be used to correct misaligned teeth, reduce dental sensitivity, strengthen weak or cracked teeth, build up worn-down teeth, correct minor bite problems, and makeover misshapen teeth.
When placing porcelain veneers on your teeth, they can be color matched to virtually be indistinguishable from your existing teeth. If replacing your entire smile line, stained teeth can easily be covered with porcelain veneers that are several shades whiter, providing a near-instant smile makeover.
Porcelain veneers are a non-porous material, so they are much more resistant to staining than your natural teeth.
Porcelain veneers are extremely durable once bonded to your existing teeth. For this reason, they can be bonded to weak or cracked teeth to strengthen them and act as a splint. They also share a number of important characteristics with tooth enamel. Like your existing tooth enamel, porcelain veneers are translucent. Light penetrates the porcelain veneer and the enamel of your other teeth in a similar way. This results in a similar shine and luster on both the porcelain veneer and the natural tooth next to it, for natural and beautiful results.
Once applied, porcelain veneers function identically to your natural teeth. You can brush and floss them just as you do your other teeth. You can also eat the same foods and engage in the same activities you did before the application.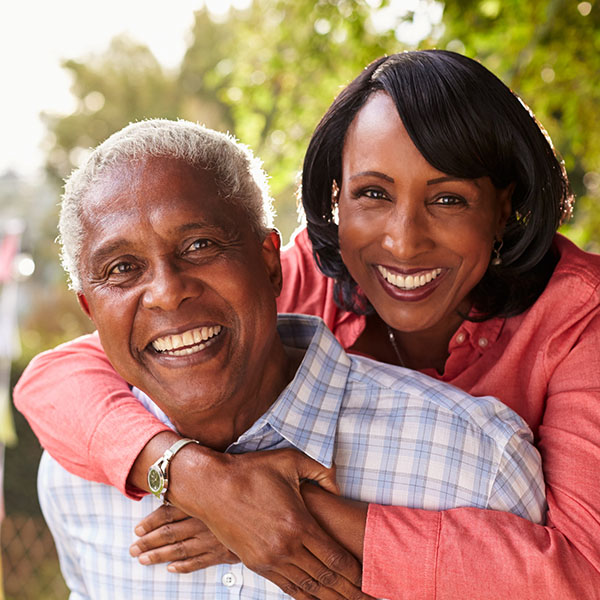 The Porcelain Veneers Procedure in our Alpharetta Office
Creating porcelain veneers is a multiple-step process. First, you will meet with Dr. Woods for a detailed consultation. As with any dental procedure, he will perform a thorough oral examination to ensure that you are a candidate for porcelain veneers. You will have the opportunity to talk with Dr. Woods about your goals and expectations during this first consultation. We may also take x-rays and impressions of your teeth once it is determined that porcelain veneers are the right choice for you.
Next, Dr. Woods will prepare your teeth for porcelain veneers. With traditional porcelain veneers, a very small amount of enamel, roughly equal to the thickness of your new porcelain veneer, will be removed from your existing teeth. This will prevent your new smile from appearing bulky.
This process also allows for a strong and durable attachment of the veneer to your natural tooth structure. Dr. Woods is very gentle and will ensure your comfort at each stage of the procedure. Next, our team will take an impression and Dr. Woods will work with the lab to create the most beautiful and appropriate veneers for your smile. Dr. Woods always considers appearance, durability, and individual preferences when providing specifications to our trusted lab. We use only the highest quality materials for perfect results.
Once your permanent porcelain veneers arrive, you will once again meet with Dr. Woods at our Alpharetta dental office for the final application of your porcelain veneers. This process involves prepping the tooth, and carefully placing and bonding the veneers. Dr. Woods has a steady hand and an eye for beauty. His dental veneers are simply beautiful. A follow-up visit will be scheduled in a few weeks to see how your gums are adjusting to the new porcelain veneers, and to make any necessary final adjustments to your bite.
Additional Information About Porcelain Veneers
How Much Do Porcelain Veneers Cost in Alpharetta, GA?
The costs of porcelain veneers vary widely from dentist to dentist and region to region. The costs of your porcelain veneers will also be affected by the number of porcelain veneers needed and whether you choose no-prep porcelain veneers or traditional porcelain veneers. A variety of factors can influence the cost of porcelain veneers, so it is important to do your research and make an informed choice based on more than just the price of the service offered.
Factors that can influence the cost of porcelain veneers include the training of the dentist you choose, the frequency with which he or she performs the procedure, the expertise and talent level of the ceramist creating the veneer, the materials used to create the porcelain veneer, and the technology used in the procedure. Other things that affect the cost of your porcelain veneers include the number of teeth receiving Porcelain Veneers and whether you choose to have temporary Veneers placed while waiting to receive your permanent porcelain veneers.
Obviously choosing a cosmetic dentist for porcelain veneers is a major decision that can have long-lasting effects. After all, your smile is the first impression you present to new acquaintances. Having a smile you can be proud of means you are likely to smile bigger smiles more often. This can have a positive effect on both your personal and professional life.
Just as you would not choose a medical doctor or surgeon based solely on the price of his or her services, you should not choose the cosmetic dentist who will be responsible for your porcelain veneers based solely on price. Do your research and shop around to find the cosmetic dentist with the right level of experience and pricing for both your smile and your pocketbook. You will likely find that the least expensive Porcelain Veneers are provided by a dentist with less experience who does not often apply porcelain veneers. Once you settle on a price range that you are comfortable with, compare different practices with similar price points to find a dentist whose personality and chairside manner make you feel at ease. Discuss your concerns and goals and ask to see examples of his or her previous work.
Porcelain veneers are an investment not covered by most dental insurance plans. SmileScapes offers financing options for porcelain veneers and other cosmetic dentistry procedures. If cost remains a concern once you have chosen your dentist, you should discuss whether the dentist offers a payment plan or financing option to defray the up-front costs of porcelain veneers.
To get an accurate estimate of how much porcelain veneers will cost you in the Alpharetta, GA area, schedule an appointment for an initial evaluation today.